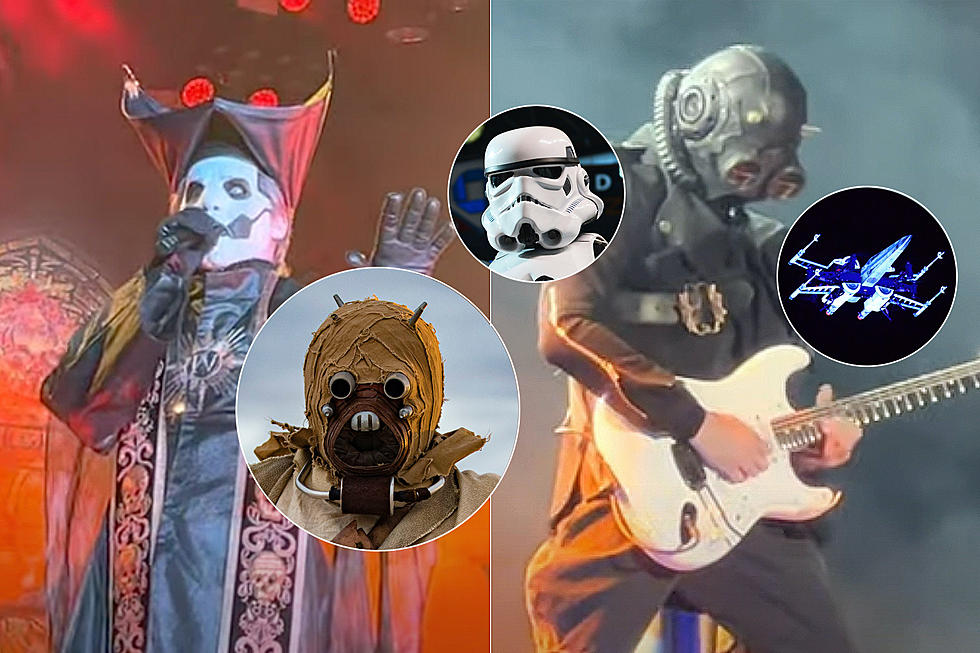 Ghost's Tobias Forge Explains How 'Star Wars' Helped Inspire Nameless Ghouls' New Look
YouTube: Roel Guajardo / Getty Images
Just call Ghost bandleader Tobias Forge Obi-Wan Kenobi. Because the current look of the stage costume he designed for his backing group of Nameless Ghouls was partially inspired by a creature in the Star Wars universe, as the rocker revealed this week.
Ghost debuted the Ghouls' new getup at the band's IMPERA tour kickoff in January. IMPERA, the theatrical rock group's fifth studio album that emerged on March 1, contains the singles "Twenties," "Call Me Little Sunshine" and "Hunter's Moon."
The musicians' previous stage outfit featured shiny silver masks with human facial features (but no mouths) that brought to mind some type of evil Roman sculptures. The aesthetic for the IMPERA era makes the band look more like steampunk Navy pilots, with a bulbous helmet inlaid with large red eye lenses and tubes connected to the the sides.
Forge, in character as Papa Emeritus IV when he's onstage with Ghost, explained the change to Revolver on Tuesday (April 12). "I wanted a sort of militant look," he said, "but any time you have people in uniform and in plural, you end up with a slight military vibe."
He continued, "I wanted to progress that from cult members to more like an army. So you have a little bit of '30s European there, and also old air-pilot helmets."
He added, pointing to the galactic facet, "As a Star Wars fan, I've always been into the Tusken Raiders and their sort of lifeless look, so that was also part of it."
The Tusken Raiders, also known in the Star Wars universe as the "Sand People," first appeared onscreen in 1977's Star Wars, retroactively titled Star Wars: Episode IV – A New Hope. In the film, the nomadic sentients indigenous to the desert planet of Tatooine descend on protagonist Luke Skywalker (Mark Hamill) and Kenobi (Alec Guinness).
Last month, Ghost completed a U.S. tour with Volbeat and Twin Temple. They're now touring Europe with Uncle Acid and the Deadbeats and Twin Temple. Get the dates below and find tickets here. See photos of Ghost's current stage show here.
Last week, Forge said he'd rather be Rammstein than Pearl Jam, where Ghost's career is concerned. Before that, he revealed the "Papa 4" NASCAR. For Valentine's Day, Ghost shared a video that humorously copied a scene from the 1990 movie Ghost.
Tusken Raiders Attack in Star Wars (1977)
Ghost, Uncle Acid and the Deadbeats + Twin Temple Spring 2022 European Dates
April 13 – Glasgow, Scotland @ Hydro
April 15 – Birmingham, England @ RWA Arena
April 17 – Rotterdam, Netherlands @ RTM Stage Ahoy
April 18 – Paris, France @ Accor Arena
April 19 – Cologne, Germany @ Lanxess Arena
April 21 – Leipzig, Germany @ Immobillen Arena
April 22 – Frankfurt, Germany @ Festhalle
April 24 – Prague, Czech Republic @ Arena
April 27 – Tampere, Finland @ Nokia Arena
April 29 – Stockholm, Sweden @ Avicii Arena
April 30 – Oslo, Norway @ Spektrum
May 1 – Malmo, Sweden @ Malmo Arena
May 3 – Brussels, Belgium @ Forest
May 5 – Milan, Italy @ Mediolanum Forum
May 7 – Barcelona, Spain @ Olympic Arena
May 8 – Madrid, Spain @ Vistalegre Arena
May 11 – Vienna, Austria @ Stadthalle
May 13 – Zurich, Switzerland @ Hallenstadion
May 15 – Hannover, Germany @ ZAG Arena
May 16 – Munich, Germany @ Olympiahalle
May 18 – Budapest, Hungary @ Arena
​​
15 Bands Who Reinvented Themselves