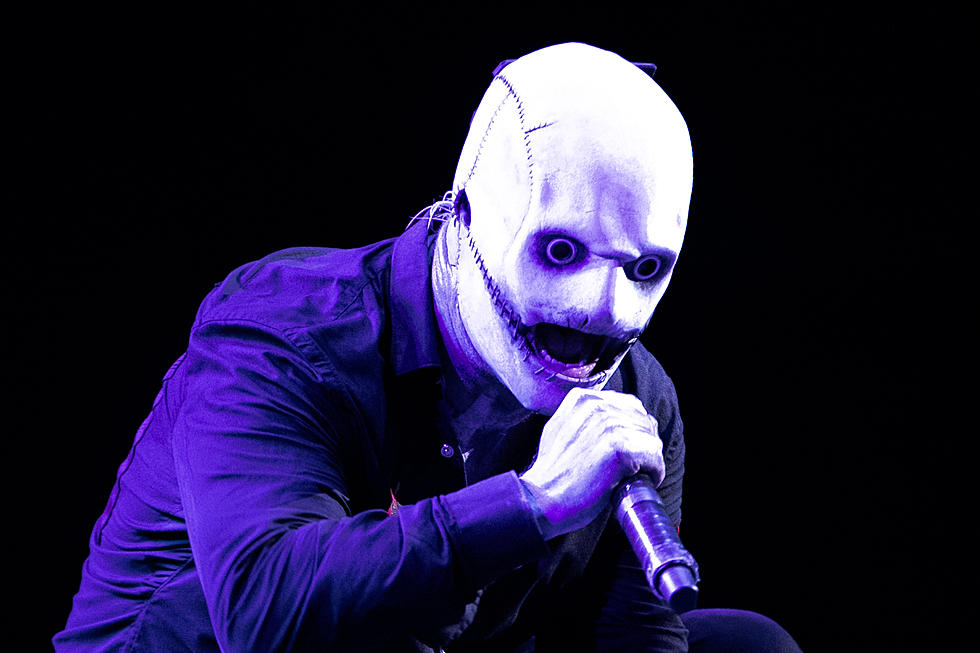 Corey Taylor Says Slipknot Are Setting the Standard for Touring During COVID
Photo by Anthony Scanga
Corey Taylor explained how Slipknot aim to "set the standard" for a touring rock band amid the COVID-19 pandemic during a new interview with Renee Paquette, the media personality and former WWE presenter who once went by the ring name Renee Young.
The group's precautions aren't surprising considering the rock singer contracted the virus earlier this year while touring solo. Now out on the U.S. Knotfest Roadshow with Killswitch Engage, FEVER 333 and Code Orange, however, Slipknot aren't taking any chances.
Listen to the interview near the bottom of this post.
"All the bands are super rad and so stoked to be back out on the road," Taylor said. "And we have such stringent restrictions that everybody's really, really happy about it. We're doing our best to kind of set the standard so other bands, you know, other tours can kind of come around and follow the example."
Slipknot are playing "Live Nation-only venues, which require all staff to be vaccinated," he continued. "It also means that at the gigs, you can either show a vaccination card or a negative test to come in, and basically means that you're masked at all times backstage. If someone pops positive, they're quarantined, and they stay behind."
He added that Slipknot have "only had two outside crew people test positive, and we have been lucky enough, once that happened, we have tested every day — all the crews of all the bands, all the [members] of all the bands, all the bus drivers, everyone — to make sure that we're all negative. So it's an arduous process, but it's a necessary process to make sure that we keep this machine on the road."
Taylor observed, "There are so many moving parts. There are so many people in so many different positions that you don't even realize that you can trace back contact with one of them through, like, six other people. You just never know. One person on the outside gets it, they have contact with three people who are close to you — boom, you're exposed. So it's a juggling act, trying to make sure that we keep it in check."
Since artists began touring again after a largely concert-less 2020, many have canceled or postponed shows due to the contagious disease behind the pandemic.
Other rock musicians who have tested positive for COVID-19 this year include Bruce Dickinson (Iron Maiden), Chad Gray (Mudvayne), Sean Killian (Vio-Lence), Sebastian Bach (ex-Skid Row), Gene Simmons and Paul Stanley (KISS), Jonathan Davis, Munky and Ray Luzier (Korn), and members of Tesla and Lynyrd Skynyrd. Metal singer Eric Wagner died in August after being hospitalized with COVID pneumonia.
Vaccination and booster efforts continue as 56 percent total in the U.S. are now fully inoculated. Over 700,000 Americans have died of COVID, per New York Times.
Corey Taylor on Oral Sessions With Renee Paquette - Oct. 14, 2021
The Best Metal Album of Each Year Since 1970
See Loudwire's picks for the Best Metal Album of Each Year Since 1970