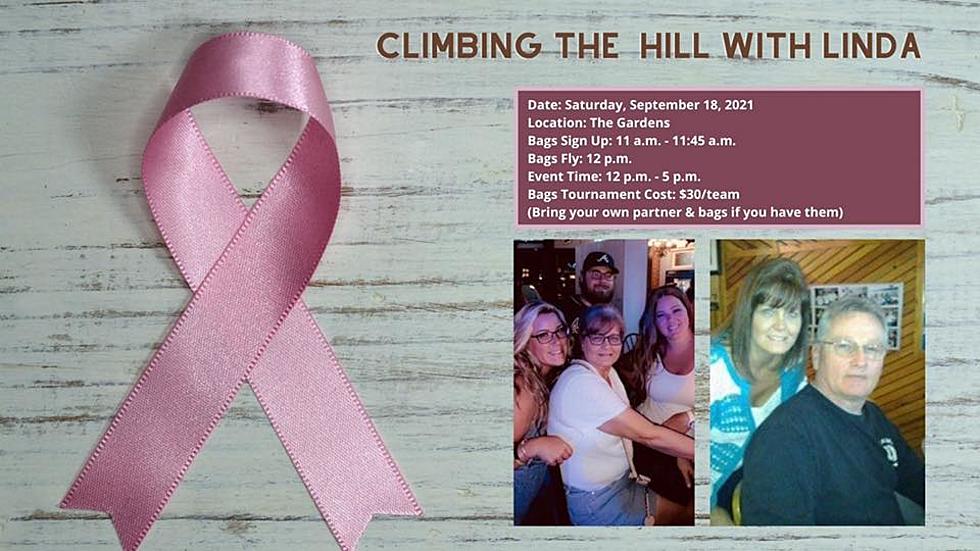 Bags Tournament, Raffle, Auction, and Bake Sale to Benefit Davenport Woman Battling Cancer
Linda Hill's Breast Cancer Benefit
Coming up this weekend is an massive event to help cover the medical costs for a Davenport woman battling breast cancer.
Linda Hill's Breast Cancer Benefit takes place at Washington Gardens in Davenport from 12pm-5pm.
The event is full of raffle items and auctions, but the big draw is a 50/50 Bags Tournament!
Registration for the tournament is between 11-11:45am, with it kicking off at 12. If you own your own bags, you can use them. Same with a partner.
Entry is $30 per team.
Silent Auction Items:
Local 5 hour party bus donated by The City Limo & Party Bus service.
An Epiphone Les Paul Standard Pro guitar.
Hair and makeup bundles from Haus of Heir.
A Night Out in the East Village.
CBD Oil Bundle donated by Your CBD Store.
4, 1 hour massage certificates
Customized bags from Notorious Bags
Raffle Items:
Domestic keg party at The Gardens for a date of your choosing.
Pizza for a year! (from Pizza Shack, Happy Joes, Your Pie, Dominos, Little Caesers, Caseys, Pizza Ranch...and MORE)
68 pizzas so far!!Ming Gourmet
Wendys
Double D's Diner
Steam Pro
Tropical Breeze Tanning
Gypsy Highway
The Circle
Decades Barber Shop
Off Point Pub
Thirty's on 3rd
House of Fades Barber Shop
Diamond in the Ruff Grooming
American Dog Grooming
Scentsy Baskets
Male/Female fragrance basket from Dillards.
Car Detailing
Gunchies
Statik Studios Photography
Nova Lane Creations
John Deere basket
Red Hawk
Hotel Stays
Bags Boards
Bingo basket
Hair care products/gift certificates
Leisure Lanes
Bath & Body Works basket
Bloody Mary kit (vodka included)
Hidden Hills golfing
If you're unable to attend but would like to donate, email lindasfight2021@gmail.com to find out how.

Happy Joe's Davenport Home
A Davenport home is for sale that was owned by a Quad Cities icon. Joe Whitty, also known as Happy Joe, passed away in October of 2019. His $1.195 million Davenport home is for sale and it could be yours. With 3 bedrooms, 4 baths, and 25 acres of land, this home will make you happy like Happy Joe.