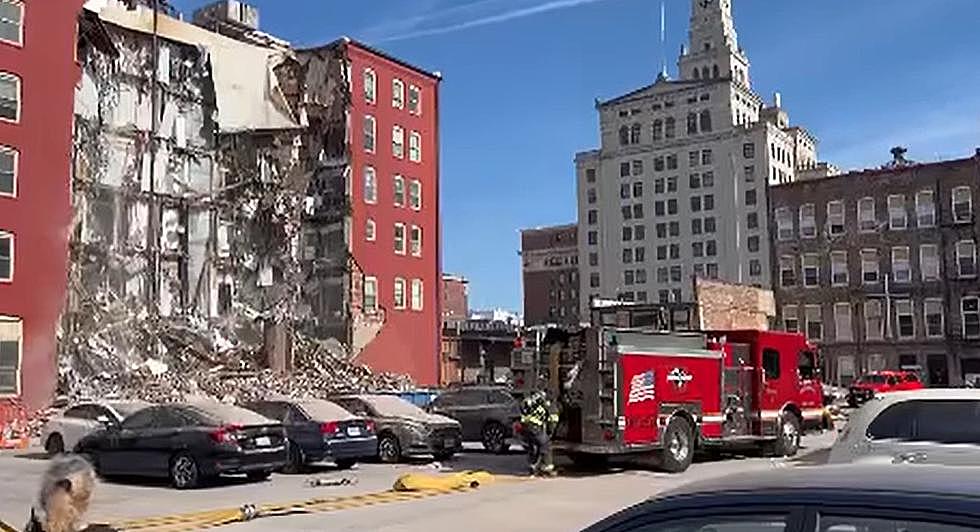 LIVE: Davenport Officials Give Update on Partially Collapsed Apartment Building
KWQC on Facebook
Officials with the City of Davenport are giving an update on the apartment building at 324 Main Street known as "The Davenport" which partially collapsed on Sunday. The start of the demolition of the building was scheduled to begin Tuesday morning.

Updated 5/29/23 at 1:00 p.m.
The Davenport Fire Department has transitioned to a recovery operation at 324 Main Street and turned control of the site over to the Davenport Development and Neighborhood Services Department.
The owner of the property has been served with a notice and order for demolition of the property. The property is currently being secured by a contractor on site this afternoon and demolition is expected to commence in the morning.
Due to the unstable condition of the property, and in the interest of public safety, residents will not be allowed back into the building.
On Sunday, May 28 at 4:55 p.m. officials received calls of a partial building collapse in downtown Davenport.
The six-story apartment complex at 324 Main St known as "The Davenport" partially collapsed and separated from the rest of the building.
At this time, no deaths have been reported according to Fire Chief Mike Carlsten but at least one person was "extracted" and taken to the hospital.

K9 units and rescue teams have been working nonstop in what Carlsten says is the "rescue phase of our operation.".  However, he also stated it would "soon become a recovery operation".
A reunification area was established at St. Anthony's Church, 417 N. Main St.
Cause of the collapse
At this point, officials are not stating what may have caused the collapse.
Our news partner KWQC spoke with Rich Oswald, director of development and neighborhood services, who said the owner of the building had permits to make repairs to the exterior brick prior to the collapse.
He added that reports of bricks falling from the building earlier this week was part of that work.
Iowa Governor Kim Reynolds,
Stay with our news partner KWQC for the latest on this developing situation.
10 Ways To Beat Pollen Allergies
Those who struggle with pollen allergies know the struggle can be real. Runny noses, watery eyes, and pure misery are just some of the things that come with pollen allergies. Whether it's fall or spring in the Quad Cities, these 10 remedies can help combat those allergies and make you feel a lot better.
LOOK: Highest-rated free things to do in Iowa, according to Tripadvisor