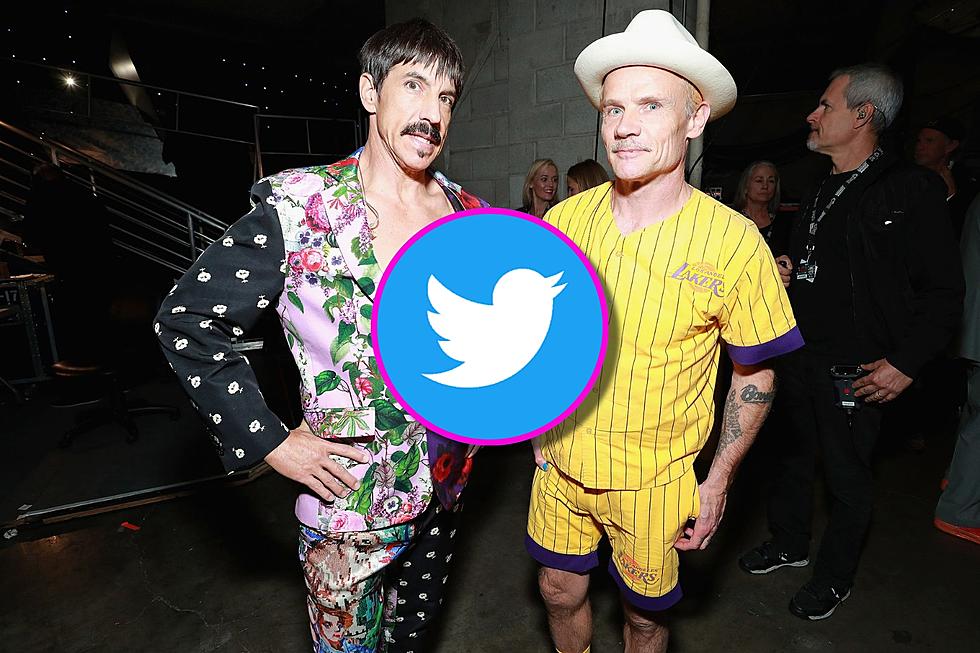 Why Doesn't RHCP's Anthony Kiedis Use Twitter? Flea Offers Wonderfully Sarcastic Answer
Rich Fury, Getty Images / Twitter
Elon Musk's controversial involvement notwithstanding, Twitter remains immensely popular, with countless public figures – including Red Hot Chili Peppers' Flea, John Frusciante and Chad Smith – maintaining profiles. However, frontman Anthony Kiedis doesn't, and when asked by a fan why that is, the celebrated bassist offered a delightfully sarcastic yet astute response.
Yesterday (Feb 17), a RHCP fan tweeted Flea with a simple question: "[W]hy isn't Anthony on Twitter?" It's a fair inquiry given the rest of the band's participation on the platform, as well as the fact that Kiedis is keenly engaged on Facebook, TikTok and Instagram.
So, what was Flea's answer? Simple: "[C]ause he's smart."
Naturally, the tweet has received thousands of retweets, likes and comments in the handful of hours since it was posted. For instance, someone confessed: "Lol brutally perfect answer. The days I separate myself from my phone and sit my butt outside in the sun are the days I feel most at ease and connected to all. Bare feet in grass is a cliche cuz it's true. It's pure remedy."
They've certainly got a point. Elsewhere, a fan replied: "I'm not a big fan of social media either. AK has the right idea lol" while another user endearingly admitted: "I wish I could send him a message, thanking him for everything you do for us fans."
To be fair, there are a few Anthony Kiedis Twitter profiles, including some that claim to be the real deal (as well as one dedicated to Anthony Kiedis news). That said, none of them have tweeted in at least four years, so Kiedis' absence from the site is indeed evident and noticeable.
So, do you wish that the famed vocalist was as active on Twitter as his bandmates? Let us know!
In other RHCP news, Smith recently sat in with a pub band to cover AC/DC songs for fewer than two dozen people. Also, some fans vowed to never see the quartet in concert again following what they felt was a lackluster show in Sydney on Feb. 2.
Of course, that doesn't mean that you shouldn't check out Red Hot Chili Peppers during their current tour if possible. You can view the remaining tour dates here and purchase tickets here.
Also, you can check out Flea's tweet below:
Rockers Who've Left Twitter Since Elon Musk Took Over
Here are the rock musicians who've left Twitter since Elon Musk took over.