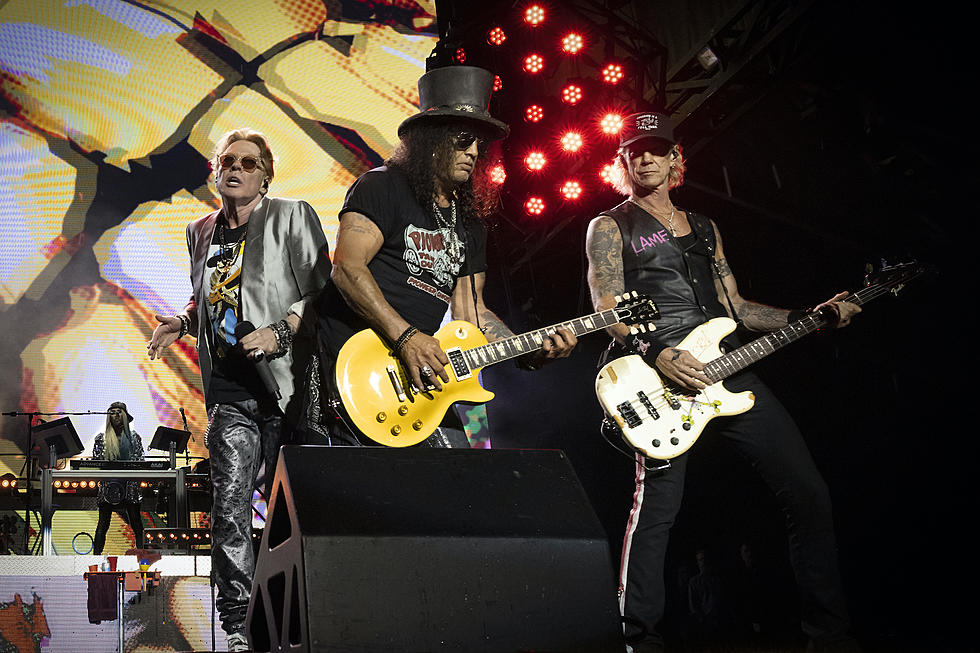 Guns N' Roses Perform New Song 'Perhaps' Live for the First Time
Guns N' Roses
Guns N' Roses just released a new song called "Perhaps" earlier today (Aug. 18), and tonight during their show in Pittsburgh, Pa., they performed it live for the first time.
"Perhaps" is the first song Guns N' Roses have released in nearly two years, and the third since Slash and Duff McKagan rejoined the group in 2016. Radio stations premiered the track at midnight on Aug. 17, but it didn't become available on streaming and digital platforms until today.
Though the show was still happening at the time this post was written, Setlist.fm notes that "Perhaps" was the twelfth song in the rockers' set tonight, and they played it right after "Estranged."
Check out some footage from the performance below.
To commemorate the release of the song, a new merchandise set became available on GN'R's webstore, which included a now sold-out 7-inch vinyl of the single. The description mentioned that "The General" is featured on the other side of the vinyl, which is another song that was originally written and recorded during the Chinese Democracy sessions.
Whether they plan to release it digitally or exclusively on the vinyl is currently unknown, but it's expected to ship Oct. 27, so fans will at least be hearing it around that time.
READ MORE: How Did Guns N' Roses Come Up With Their Band Name?
The song has been teased for quite a while now. Guns sound checked "Perhaps" before their show in Tel Aviv back in June, which led fans to speculate that that would be the next track they'd put out. Then in mid-July, GN'R's stage technician Tom Mayhue confirmed during a Q+A in Paris that the band would release a new song soon, and that they've also been working on a new album. The videos have since been deleted by the original source, but he described it as "a lot more, kind of Appetite-orientated."
After tonight, Guns' next show will be Monday, Aug. 21 in Boston, Massachusetts. See the rest of the dates here.
All 23 Musicians Who've Been in Guns N' Roses
Hope you got some time to get through this one.