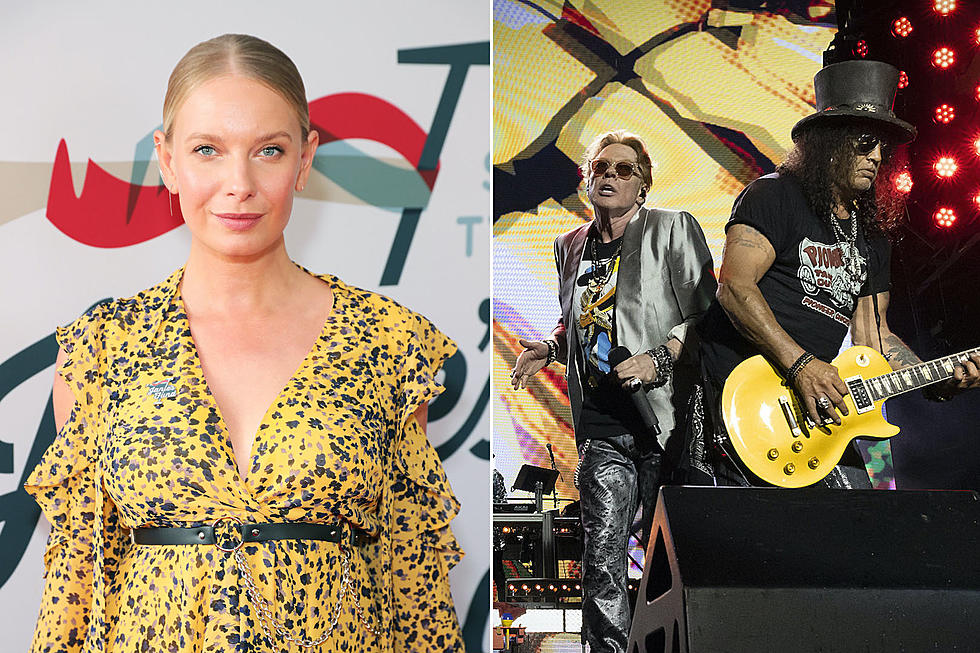 Former Guns N' Roses Photographer Sues Band for Copyright Infringement + Accuses Manager of Sexual Harassment, Band Responds
Leon Bennett, Getty Images / Guns N' Roses
Former Guns N' Roses photographer Katarina Benzova has filed a lawsuit against Guns N' Roses and their management claiming copyright infringement and sexual harassment by the band's manager Fernando Lebeis. The band has since responded to the lawsuit in a statement provided to Loudwire, noting that they initially filed a counter claim against her back in October.
Benzova's lawsuit was filed in California on Nov. 11. According to the suit, Benzova worked with Guns N' Roses as an independent contractor from 2010 until 2022, for a total of 364 concerts.
Guns N' Roses, Gundam LLC (GN'R's business and holding company), Team Brazil and Lebeis are listed as the Defendant in the case. Lebeis is the son of Elizabeth Beta Lebeis, who acts as Axl Rose's manager. The other two members of Team Brazil are Vanessa Santos (Elizabeth Beta Lebeis' daughter), who also manages Rose; and Alex Santos, an accountant who works with Gundam LLC.
The suit claims that the band and their camp committed copyright infringement on Benzova's photographs "through the reproduction, public display, distribution, creation of derivative works, and holding out of Benzova's photographs for licenses and sale to third party publications after termination of any right to do so," and altered various photographs in order to cover infringement and claim false ownership of them.
Furthermore, the suit alleges that Lebeis, Guns N' Roses' manager and member of Team Brazil, repeatedly made unwelcome sexual advances toward Benzova numerous times starting immediately after he became the band's manager in 2016, and didn't stop until 2022. The suit claims that as Benzova rejected Lebeis' advances, he became aggressive and hostile toward her, and psychologically manipulated through "name-calling, ridicule, demeaning remarks, humiliation, bullying, and lying."
According to the report, Lebeis eventually lowered Benzova's fee without notifying her, withheld payments from her, moved her to cheaper hotels during travel, demanded she pay out of pocket for travel expenses that Team Brazil promised to cover and refused to respect her demand for photo credit.
The suit asserts that Benzova had tried to use written contracts with Guns N' Roses repeatedly since 2016, but her efforts were ignored. It further states that in October of 2022, Lebeis cut ties with Benzova and cited various reasons for her termination, including "budgetary concerns." It adds that Benzova believes that Lebeis discriminated against her because she rejected his alleged sexual advances, and claims another photographer for the band, Jarmo, wasn't treated in the same regard as she was.
In a statement provided to Loudwire, Guns N' Roses responded to the lawsuit.
Ms. Benzova was initially contracted to provide tour photography services for Guns N' Roses in 2010. She worked with the band for 12 years and was paid and treated extraordinarily well. It was only after her services were discontinued in 2022 that she attempted to claim ownership in photos which her contract clearly states are owned by the band. The band takes these types of claims very seriously however all evidence establishes these accusations are categorically and unequivocally false. This response from her comes after the band initiated suit against Ms. Benzova for falsely asserting ownership in the photos of the band.
As per their statement, Loudwire was provided a copy of Guns N' Roses' lawsuit against Benzova, which was filed in California on Oct. 24 for declaratory relief. Their suit claims copyright invalidity, non-ownership and non-infringement, particularly stating that Benzova had "falsely alleged copyright infringement against various persons and entities" in March of 2023.
The suit points out that upon Benzova's employment in 2010, she agreed and acknowledged that Waterhead International, Inc., which manages Guns N' Roses' tours in addition to Gundam LLC, would be the exclusive owner of all of Benzova's works on behalf of the band.
READ MORE: The Most Shocking Rock + Metal Moments of the 1970s - 1990s
The lawsuit further states that Benzova entered a "Crew Member Employment Memorandum" with Gundam in 2016, which read, ""You [i.e., Benzova] acknowledge and agree that the results and proceeds of your services rendered during the Term will be on a 'work-for-hire' basis. We [i.e., Gundam Productions] shall own the copyrights and all intellectual property rights to all of the video and photographs created by you during the term of your employment. In addition, we [i.e., Gundam Productions] shall have the right, but not the obligation to use your name, likeness, voice and biographical material in connection with the results and proceeds of your services hereunder."
The report states that Benzova entered another similar "Crew Member Employment
Memorandum" in 2021. "As a result, there is no legal or factual basis on which Benzova was entitled to register a copyright in the works featuring GN'R," the suit attests.
All 23 Musicians Who've Been in Guns N' Roses
Hope you got some time to get through this one.