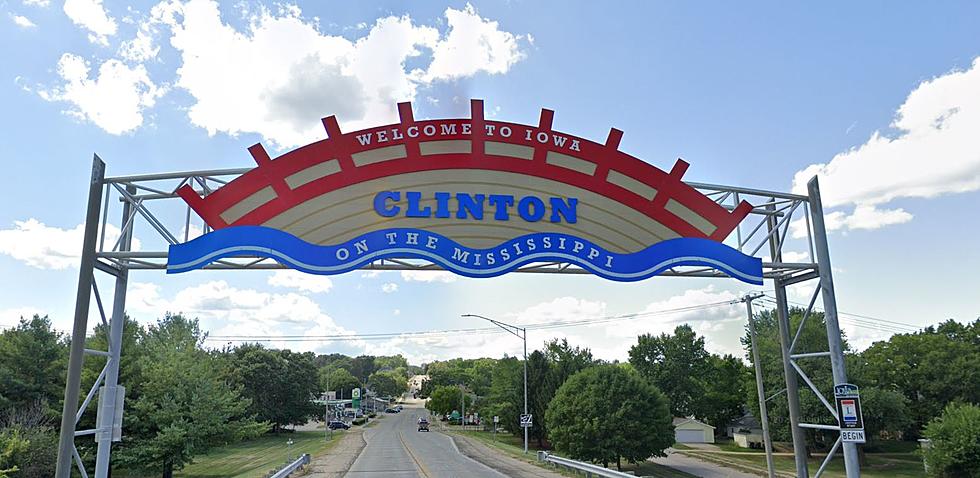 Why Does Clinton, Iowa Smell So Terrible?
Google View
When you come into Clinton, Iowa on eastbound Highway 30, your nostrils aren't going to have the most pleasant experience. Clinton has a reputation for having these unpleasant smells and as a born and raised Clintonian, I've heard it all. But the smells aren't a bad thing because they really mean one thing, money.

Clinton, Iowa is home to 24,469 residents according to the 2020 U.S. Census. which is down by almost 2,500 people from the 2010 U.S. Census. Incorporated on January 26, 1857, Clinton, IA was named after the sixth Governor of New York, DeWitt Clinton.
Many residents have called Clinton home including some pretty famous people. Famous and notable people born in Clinton include David Johnson (Current professional football player), Felix Adler (Ringling Brothers Circus), Duke Slater (Professional football player), Krista Voda (Current sportscaster with Fox Sports, SPEED Channel), and many others.
Clinton has been called "home" by many wealthy people too. During the lumber industry boom from the 1850s to the 1900s, Clinton was known as the "Lumber Capital of the World" which brought many wealthy people. In the 1880s and 1890s, there were 13 millionaires living in Clinton which meant Clinton had more millionaires per capita than any other town or city in the U.S. Clinton has some pretty cool things about it too!
I know you came for the smelly part about Clinton, not a history lesson, but I have to brag about my hometown a little.
The reasons behind the gross smells in Clinton are simple. Factories. There are three factories that really contribute to the smell of Clinton. But you have to remember one thing, those smells mean money.
ADM Archer-Daniels-Midland Company
ADM is a multinational food processing and commodities trading corporation. They take cereal grains and oilseeds and process them into products used in food, drink, industrial, nutraceutical, and animal feed markets around the world. Basically, they take corn, soybeans, and many other crops and plants and term them into oils, food, feed, fuel, and other products.
The process they use to make a lot of that stuff can get really smelly.
You can read more about what they do here.
---
Nestlé Purina
For 50 years, Clinton has been home to Nestlé Purina where they make wet and dry pet food and treats. The food you feed your dog or cat, if it's Purina, probably comes from here. When you're traveling on Manufacturing Dr. in Clinton and you smell dog food, this is why.
---
National By-Products
National By-Products was bought by Darling Ingredients in 2006. What does National By-Products do? It's pretty disgusting so get ready. National By-Products is a rendering company that takes kitchen grease and livestock carcasses and turns them into industrial fats and oils.
You read that right, they render livestock carcasses and make them into other products including tallow which is fat you can cook with. When they render those by-products, the smell is disgusting and is the third gross smell you get when you are in Clinton.
As a born and raised Clintonian, I love my hometown. As sad as it may sound, the smells from the factories listed above remind me a lot about my childhood. My parents owned a bar on Camanche Ave. near ADM called Boo's where we celebrated many Hawkeye wins and little-league baseball wins and ate and cooked really great pizza. I played little league baseball on the south end of Clinton where the smell of National By-Products really lingered but we won a lot which brings back fun and happy memories.
I know, the smells of Clinton don't bring everyone the same weird and nostalgic joy it does to me. I can tell you this though, if you stay in Clinton long enough, or go towards the north end, you don't even notice it anymore.
Quad Cities $1.25M Manson With Basketball Court, Theater For Sale
A home in the Quad Cities has gone on the market and it is worth every penny. This gorgeous LeClaire, IA mansion is selling for $1.25 million and it features a basketball court, home theater, two full kitchens, and so much more. Let's take a look inside.
Iowa's Island City
There is something unique about every town, but there is really something special about Sabula, IA. Known as "Iowa's Island City," Sabula is the only town in the state of Iowa that is entirely on an island. While not a lot of people have been to, or live in Sabula, it is a quaint little town nestled right on the Mississippi River.
Before we show you around "Iowa's Island City," let me give you the history of Sabula. Sabula was established in 1835,
according History of Jackson County, Iowa, Volume 1 by James Whitcomb Ellis.
Isaac Dorman and a man named Hinkley crossed the river from the Illinois side on a log and decided to settle on what is now Sabula. An Ohio couple, James and Margaret Woods would settle on Sabula about a year later in April of 1836. Their son, Dr. E. A. Woods would purchase Hinkley's interest in the claim. Charles Swan and W. H. Brown would soon purchase Dorman's interest. The three men, Woods, Swan and Brown later had the land plotted in 1837.
According to Island City Harbor's website
, Sabula went through a few names before landing on the official town name. In 1837, Sabula was first called Carrollport. Residents of the town didn't like the name because there was a man's name who was Carroll who had a bad reputation. The town changed its name to Charleston, after early settler Charles Swan. The only issue was that there was already a town called Charleston in Iowa which caused much confusion.
Sabula did not actually become an island until 1939. According to Wikipedia, in the 1930's, the Army Corps of Engineers constructed the lock and dam system. In 1939, Lock and Dam No. 13 between Clinton, IA and Fulton, IL was built which caused the bottomlands west of the town permanently flooded. With the Mississippi River east of the town, this created the "Island City." A levee was built around Sabula in 1957 for protection,
according to Island City Harbor's website
. This also allowed for the south sand pit to be turned into a boat harbor.
I would like to thank my mom Beth, her fiancé Matt, my brother Nolan and my wife Ellie for accompanying me to Sabula. We always have a blast on our trips and this one was no exception.
It's now time to introduce you to Sabula, Iowa, Iowa's Island City.